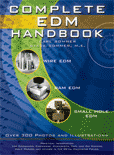 Click on Book For More Information
Price $59.95

Carl Sommer, owner and president of Reliable EDM Corp. in Houston, Texas, has a wide and varied background in the machine tool trade. Steve Sommer, M. E. vice president, has a mechanical engineering degree, and had experience as a tool and die maker, and a thorough knowledge of computer programming and the wire EDM process.
The Complete EDM Handbook covers wire EDM, ram (sinker) EDM, and small hole EDM. The chapters are: Fundamentals of EDM, Wire EDM, Profiting With Wire EDM, Proper Procedures for Wire EDM, Understanding the Wire EDM Process, Reducing Wire EDM Costs, Advantages of Wire EDM for Die Making, Wire EDMing One-Piece Stamping Dies, Fundamentals of Ram EDM, Profiting With Ram EDM, Ram EDM Electrodes and Finishing, Dielectric Oil and Flushing for Ram EDM, Reducing Cost for Ram EDM, Small Hole EDM Drilling, and Questions.
Price $59.95 Hardcover: Pages 224 (2nd Edition)
ISBN: 978-1-57537-303-4

Non-Traditional Machining Handbook
By Carl Sommer
A Comprehensive, Professional Book About All the
Non-Traditional Machining Methods
Over 450 Photos and Illustrations 432 Pages
Read the Exciting Reviews & Endorsements
Author of Non-Traditional Machining Handbook is President of Reliable EDM
(www.ReliableEDM.com)
(His company has over 50 EDMs and is the largest wire EDM job shop west of the Mississippi River
with sinker, and small hole EDM capabilities.)

Click on Book For More Information
Price $89.95
Now you can have the most practical, and informative guide on non-traditional machining ever published. Carl Sommer, president of Reliable EDM in Houston, Texas has a wide and varied background in the machine tool trade.
The book covers: Wire and Ram (Sinker) EDM, Fast Hole EDM Drilling, Waterjet and Abrasive Waterjet Cutting, Plasma and Precision Plasma Cutting, Photochemical and Electrochemical Machining, Abrasive Flow and Ultrasonic machining, Rapid Prototyping and Manufacturing, Lasers for Cutting, Welding, Cladding, Alloying, Heat Treating, Marking, and Drilling, Outsourcing, Purchasing Equipment, The Revolutionary Future Non-Traditional Machine, and Questions.
Price $89.95 Hardcover: Pages 392
ISBN: 978-1-57537-325-6