Contents


1. Understanding Electrical Discharge Machining
2. Wire EDM Fundamentals
3. Profiting With Wire EDM
4. Proper Procedures for Wire EDM
5. Understanding the Wire EDM Process
6. Reducing Wire EDM Costs
7. Advantages of Wire EDM for Die Making
8. Wire EDMing One-Piece Stamping Dies
9. Ram EDM
10. Profiting With Ram EDM
11. Ram EDM Electrodes and Finishing
12. Dielectric Oil and Flushing for Ram EDM
13. Reducing Costs for Ram EDM
14. Small Hole EDM Drilling
15. Questions

Complete EDM Handbook
By Carl Sommer and Steve Sommer, M. E.
A Comprehensive Book About EDM
Read the endorsement from EDM Today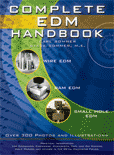 "The key word of this new book's title is "Complete" because within its 207 pages, it explains the practical use of Wire EDM, Ram (or Sinker) EDM, & Small Hole EDM. It does this in an easy to understand fashion, employing over 300 photos, sketches, and charts." EDM Today


Discover the many new cost-saving advantages to increase productivity with Complete EDM Handbook!


Question in back of book for classroom use.
About the Authors
Carl Sommer

Carl Sommer, owner and president of Reliable EDM Corporation in Houston, Texas, the largest wire EDM job shop west of the Mississippi, has a wide and varied background in the machine tool trade. His introduction to the machine tool trade goes back to 1949, at a New York City machine shop. He has worked as a precision machinist, including aircraft and space work; tool and die maker; foreman, tool designer, and manager of one of the largest tool and die shops in Houston, Texas.
Steve Sommer, ME
Steve Sommer, M.E. vice president, received his mechanical engineering degree from the University of Houston. He has experience as a tool and die maker, and a thorough knowledge of computer programming and the wire EDM process. Under Steve's supervision, Reliable EDM has become the largest wire EDM contract shop west of the Mississippi. This has provided this father and son team with extensive experience in wire EDM with many types of companies: such as aerospace, defense, petroleum, plastic, electronic, medical, and others.

Colleges and technical schools use Complete EDM Handbook as a textbook. Questions are in back of book for classroom use.
Price $59.95 Hardcover: 207 Pages, ISBN: 978-1-57537-302-7